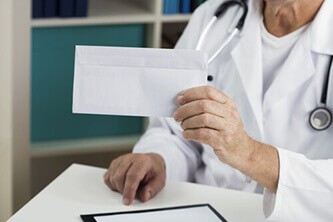 Today's healthcare payment systems aren't always as efficient as patients would like them to be. This is the takeaway from the latest billing statistics to be released. It seems very clear patient outreach and education aren't in line with spending on healthcare. Experts predicted, by 2019, that out-of-pocket expenses will reach more than $608 billion. These figures show there are still some major issues in the healthcare payment sector.
What do providers of healthcare services need to know? And, what can they do to improve the situation? Here are some statistics that could help providers to tailor their services to better suit patients' needs.
Patients Are Struggling with Confusion
One of the biggest problems noted over the past year is that more patients than ever are confused. With higher deductibles than ever before, it comes as no surprise that more consumers are struggling to understand their bills. In fact, statistics show a shocking 70 percent of patients fail to understand their medical bills. Seventy-two percent don't understand their benefits explanations. With that in mind, it's no surprise that 65 percent of consumers are considering changing healthcare providers. The key thing they are looking for is a better healthcare payments experience.
The Need for Digital Healthcare Payment Systems
The world today is increasingly going digital. Consumers like this trend. They find it convenient and simple. We all have more stress in our lives, so finding ways to minimize that stress through simpler payments is beneficial. This has never been more relevant than in the healthcare sphere. With a quarter of all people suffering from mental health problems, facilitating convenient payments is the way forward.
Statistics show this. Seventy-one percent of patients want the ability to make payments for all their medical bills in a single place. By being able to do this, it increases the chances of receiving payments on time and in full. This is good news for both providers and patients. Patients can enjoy a low-stress experience without having to handle several billing systems. Practices and hospitals, meanwhile, can enjoy a better cash flow and easier time management.
One statistic that healthcare providers should take a closer look at involves mobile apps. According to the latest figures, 65 percent of patients are keen to download mobile apps, so they can pay medical bills. Web portals are proving to be one of the most popular modern healthcare payment systems. Providers that have yet to adopt this technology are lagging in today's competitive environment.
Moving from Paper Solutions
You cannot underestimate how important it is to have online portals. Fifty-eight percent of healthcare providers are still using paper statements as their main method to collect payments from patients. Even more worryingly, 40 percent of providers admit to not having made changes to their patient statements in more than five years. Change is essential if providers are to stay up to date in today's healthcare climate. Without adopting the latest technology, practices will struggle to survive now that patients have higher payment responsibilities.
Security Concerns Remain Paramount
In 2017, there were more security breaches of healthcare data than in any other year. These are worrying statistics. It's no wonder, then, security is the most important factor for 96 percent of healthcare providers in healthcare payment collections. Consumers, too, are worried. Ninety-four percent of payers believe security is the ultimate importance when paying medical bills. Forty-seven percent of consumers admit to having significant concerns about medical bill payment security. This only goes to demonstrate the importance of adopting healthcare payment systems that have strong security certification.
Billing Tree's healthcare payment systems are secure, innovative, and convenient. By adopting these advanced solutions, providers can increase their revenue and patients can enjoy a better experience.