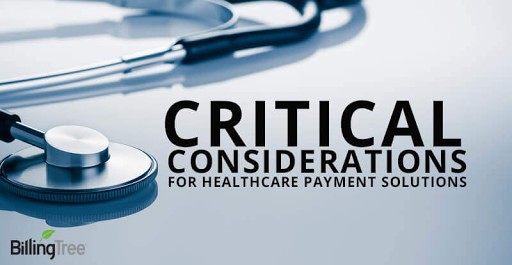 Healthcare is one of the major sources of debt for many people, whether they have insurance or not.
In the United States, one in five working-age individuals with insurance struggles to pay their medical bills, while 53% of uninsured people have issues paying their bills. Among the insured and uninsured, 31% owe at least $5,000.
For healthcare providers, collecting patient payments can be a hassle, especially if patients owe thousands of dollars.
That is why it is important to take the following steps to make healthcare payment solutions as simple and convenient for the customers. Then, healthcare providers can be paid in a timelier fashion and not have to worry about receiving payment for their services.
These are the steps:
Create an easy-to-use patient portal
It has been proven that patient payment portals can increase the amount of money healthcare providers bring in. According to a study from athenahealth, practices that convinced more patients to use their portals resulted in a 4.8% boost in patient pay yield. By allowing patients to access their portals and bills on the go, providers have a better chance of collecting.
The online patient portal should include a clean interface with readable fonts. Patients should be able to access them on any type of device and have a pleasant surfing experience. The design will require some testing, because patients don't have the time or energy to deal with clunky web applications.
Utilize Interactive Voice Response (IVR)
Some customers may not be too technologically savvy or would rather utilize their telephones to pay their bills. That's why Interactive Voice Response, or IVR, can be one of the viable healthcare payment solutions. With IVR, customers are able to call up, speak to an automated recording and/or use their touch-tone keypads to make payments in minutes.
Allow customers to reach agents
When customers reach out to support contact centers, they want to have personal interactions with skilled agents. They wish to quickly and efficiently solve any problems they may be experiencing. When it comes to healthcare payment solutions, hiring agents who can walk customers through the payment process is key. It is more personal and oftentimes less frustrating than working with a patient portal or a touch-tone telephone system.
Accept various forms of payment
Customers need to pay their bills in a variety of ways, and it is up to healthcare providers to give them options. They should be able to pay their balances with their Savings Account, Medical Savings, credit and debit cards, Check 21, and ACH so that it is hassle free.
Set up recurring payments
Everybody leads busy lives nowadays, which means they may forget to pay their bills on time. By offering a recurring payments choice, healthcare providers will not be reliant on their customers to remember to pay them.
Configure payment reminders
Whether patients have recurring payments set up on their accounts or not, it is crucial that healthcare providers send out payment reminders. That way, customers who are not enrolled in recurring payments will go in and pay their bills, while the ones who are enrolled will make sure the money for payments is in their bank accounts and ready to be processed.
Offer payment plans
Customers may look at big balances and get scared. Instead of paying them, they will simply let their balances be sent to collections. That is the situation that 42.9 million Americans, or almost 20 percent of Americans with credit reports, are in.
For this reason, healthcare providers must be proactive and offer payment plans to patients who have unpaid bills. By breaking down their large bill into smaller monthly payments, customers will be more likely to pay back what they owe.
Use 1st and 3rd party and Early Out payments
First, healthcare providers need to send patients their bills. Then, if payment is late, healthcare providers should inform customers of the situation. After that, patients should receive letters stating that their debt is going to be transferred to a third-party collections agency. Giving customers the choice to pay their debt before it goes to collections, but at the same time informing them of the consequences of not paying, will convince them to send payment in promptly.
Pursue a HIPAA certified payment system
The payment system healthcare providers use should be fully compliant with HIPAA. By doing this, they ensure that their patients' medical information stays safe and secure. This will result in a higher level of trust in the healthcare providers, and increase their business overall.
Are you behind on taking payments from your patients? Do you want to figure out a better way to collect the money they owe your hospital or healthcare facility? If so, BillingTree offers healthcare payment solutions that will enable your customers to easily pay their bills, and guarantee that you will be paid on time.
To learn more about how BillingTree can help you, contact BillingTree or call us at 877-424-5587.