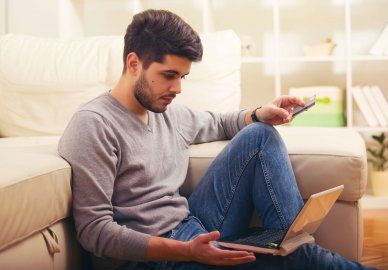 For those in the Accounts Receivable Management (ARM), Property Management, Healthcare and Financial Services industries, payment technology trends mean change is on the horizon. Savvy startups and medium-sized businesses can leverage emerging payment technology to level the playing field with their enterprise-level competition.
Here are the top three trends to watch out for in the ARM, Property Management, Healthcare and Financial Services industries that when harnessed, can help you grow your bottom line:
Mobile payments industry
RetailDIVE reports experts expect mobile payments to grow by 20% compounded annually to $282 billion by 2021. What started years ago with Apple Pay, mobile payments and wallets are increasingly becoming the preferred payment method of choice for many consumers.
Led by millennials, the mobile payment industry offers a way to pay anywhere and at any time simply by using a mobile device. This convenience increases the likelihood consumers will complete their transactions.
Bill pay
Allowing millennials to use their mobile devices to access and pay bills makes for more timely payments. Especially for student loans, mobile bill pay allows students to pay their bills in ways they're more comfortable with, which will affect the bottom line of collection agencies.
Mobile payments also offer a way to reduce accounts receivable processing costs associated with checks. Electronic bills, coupled with mobile bill payment options, let millennials and other consumers receive a bill on their smartphone and use the same mobile channel to make payment.
Meteoric rise of FinTech
FinTech, short for Financial Technology, comprises cutting edge technology to support and enable banking and financial services. With the adoption of even more innovative technologies like artificial intelligence and machine learning, the FinTech ecosystem is evolving at increasing rates. In the first quarter of 2017, US venture capitalist-backed FinTech startups raised $1.1 billion across 90 deals (CBInsights Global Fintech Report).
As fast as FinTech is moving, major financial services enterprises are moving to partner with FinTech companies. Per a PriceWaterhouseCoopers Global FinTech Report 2017, 88% of established financial services companies are concerned they will lose revenues to new FinTech innovators.
The impact of Blockchain
Blockchain technology is the rising star in FinTech. With the potential to disrupt the way every industry manages its data, not just financial services, Blockchain is the transparent, unchangeable online ledger that is virtually hack-free. With tighter regulations and its inability for hackers to crack, Blockchain technology can help larger financial services companies counter the impact of FinTech innovators.
Interactive Voice Response (IVR) payments
Virtual negotiation and IVR payment technology are allowing companies in the ARM industry to accept payments in new, advanced ways to which consumers respond. This key new payment technology stands to disrupt certain markets, such as the healthcare industry, as payment options expand due to technology innovations.
Omnichannel payment options
FinTech is allowing consumers to have multiple payment channels that are more user-friendly. For companies looking for settlements in accounts receivable, omnichannel payment options will help maximize the settlement amount by allowing consumers to choose where and how they make payments.
Changes in ACH processing speed
ACH (Automated Clearing House) processes credit and debit card payments for institutions nationwide. They handle billions of payments annually, and historically it took several days to process the transaction. It was a time-consuming, manual process costly to perform, especially for smaller payments.
Today, NACHA can process card payments on the same day as the transaction. By 2018, same-day ACH will extend, so all funds will be made available by banks to recipients by 5 PM on the same day.
Businesses and financial institutions will benefit from same-day ACH payments because ACH is one of the most popular methods of collecting payments. There will be some bumpy roads ahead as businesses and financial institutions grapple with new rules to follow and integrating the technology that allows same-day payments. The benefits of faster payment and flow of funds will more than outweigh any costs.
Conclusion
The payments industry is witnessing a paradigm shift thanks to the influx of innovative technology. With mobile payments and wallets and same-day ACH becoming mainstream, the key drivers of digital payments are improved security measures and convenience.
The news reports daily on the ever-changing landscape around the above three trends. The payments and accounts receivable industry are the biggest winners as these trends start to pay off.
The BillingTree difference
A leading payment processor and solutions provider, BillingTree's client-first approach, commitment to compliance and seamless integration with operating systems ensures balance between protection and profitability. Choose from our continually optimized suite of ARM payment processing products and services for the solution that fits your company and customer needs. Manage daily activity through our intuitive payment portal. Get the job done efficiently and get paid quickly, with products and services that work.
Contact BillingTree today for a demonstration.