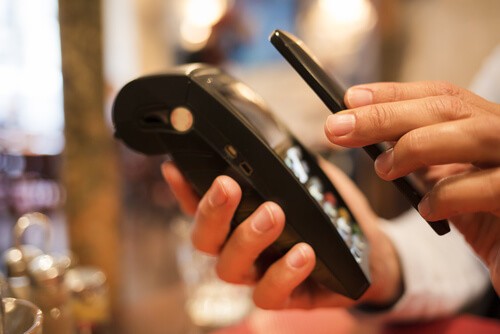 The forecast for mobile payments in 2018 shows continued growth, with reports suggesting nearly one in five users will use their smartphone for payments sometime this year. If your business hasn't already implemented a mobile payment processing strategy, it's time to consider it. According to the latest proximity mobile payments forecast from eMarketer, the total value of mobile payment transactions in the US will grow 210 percent over the next few years.
As technology evolves, "tap and go" mobile payments will continue to move the point of sale process past the traditional, physical location. Not only does this save time for the customer, but it eliminates the time-consuming process of businesses collecting cash or personal checks and making endless trips to the bank for deposits. Mobile payment processing has captured the attention of a number of small to medium-sized businesses, with a recent Cogent Reports At Market Strategies International report suggesting approximately 40 percent of U.S. small businesses have already adopted mobile card readers. Is your organization considering the switch to mobile payment processing? Here are some things to consider before choosing a provider.
Must Have Features
Not every mobile payment processing provider is the same. Mobile payment systems can vary widely in the features they provide, benefits and implementation costs. Have you made a list of your "must-haves" before searching for the right provider? Consider things like promotions, average transaction value, technical support and loyalty rewards programs to add to your list of priorities.
Determine Your Budget
Mobile payment processing systems often include costs associated with fee structures, equipment and the terms and conditions specific to that provider. To determine your budget, first consider how your business model relates to the fees. Think about the number of mobile payment transactions you'll process per month, the cost per transaction and how the customers might pay. This will give your business a starting point for determining how much to spend on the payment processing service.
Top of the Line Security
Guaranteeing Payment Card Industry (PCI) compliance and following security standards is an absolute must. Because not all mobile payment processing providers guarantee the same level of security, do your due diligence and find one that offers expert support and can back it up with advanced certification and compliance.
Not every mobile payment processing provider is the ideal fit but doing your homework now can help get the proper system in place for down the road. Technology will continue to evolve and it's important for businesses to offer the flexible payment options for customers. To see how BillingTree can help your business, contact one of our team members today.