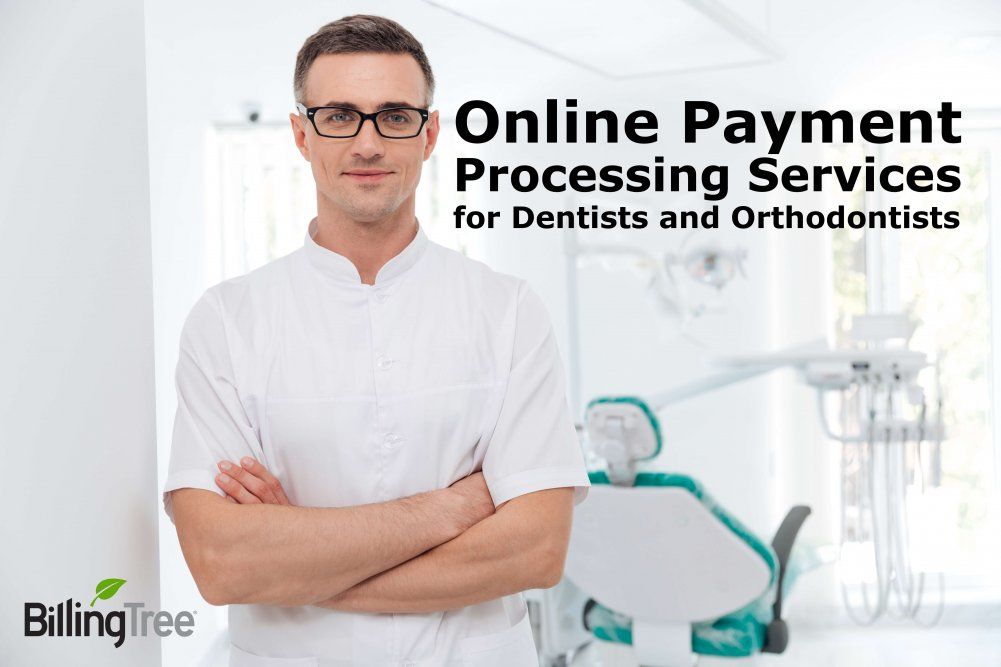 Healthcare is a major source of debt for many people living in the United States. In 2015, one in five working-age Americans with insurance had problems paying their medical bills. Even under the Affordable Care Act, people are still falling behind.
Dental care is part of that struggle for the 100 million Americans who do not have dental insurance. It is not typically covered under Medicare, resulting in issues for the senior population in particular. Nearly 8,000 people per year in the United States die of pharyngeal and oral cancers, and most of them are elderly.
Since people are struggling to pay their bills, dentists and orthodontists often go uncompensated for their hard work. By utilizing online payment processing for dentists, you will increase your collections for providing crucial and life-saving services to patients.
What is online payment processing?
Online payment processing is a system run by a third party that takes payments from clients for their vendors. For example, Payrazr, an online payment processing portal, allows dentists and orthodontists to go in, set up accounts, add logos and other branding materials to their portals, and direct customers there to make their payments.
These online payment processing services for dentists, like Payrazr, will accept various forms of payment like cards, Health Savings Account (HSA) and Flexible Spending Account (FSA) payments, eChecks, and ACH.
Why are online payment processing services for dentists effective?
The internet and smartphones have changed how patients expect to interact with their doctors. People are using the Internet, and their mobile devices not only to have fun and communicate with friends and family. They are also utilizing mobile devices to pay their healthcare bills.
According to Credit Union Times, 56% of all bills are now being paid online. Among Millennials and Gen Xers, that number is 61% and 60% respectively, while 52% of baby boomers and 42% of seniors pay their bills on the internet. A majority of those bills are being paid directly to the billers' websites. Out of the $1.2 trillion paid through recurring payments in 2016, about $530 billion was spent on the billers' sites.
Online payment processing services for dentists and orthodontists are highly effective because they allow consumers to pay anytime and from anywhere.
More and more people, especially those in the younger generations, would rather pay their bills online because it is more convenient and easier to track. Gone are the days of consumers writing out checks and mailing them into companies. Most young people today do not even own paper checks.
What are the other benefits of online payment processing services for dentists?
Aside from being convenient for patients, these online payment processing services for dentists are also beneficial to the healthcare providers themselves.
These services guarantee that payments are completed the right away and that bills are paid promptly. Online payment portals also offer patients the option to sign up for payment plans that will deduct money from their accounts every month.
Payment plans are crucial because of the rising cost of medical bills. According to Time, in 2015, the out-of-pocket costs for health care bills were $1,318, up from $584 in 2005. Healthcare premiums cost an average of $89 each month as well. The median income in the United States is $53,719, and cost-of-living expenses are always increasing. Those factors combined with the after effects of the recession have resulted in people being unable to pay their healthcare bills upfront and in full.
Rather than letting their bills stay unpaid, through online payment portals, people can pay their bills on their terms and dentists and orthodontists will receive compensation, even if it takes a little longer. These online payment processing services will also notify providers when payments are going through so they can make sure the money is in their account at the right time.
Where can dentists and orthodontists sign up for online payment processing services?
There are numerous companies that provide online payment processing services. These healthcare providers need to make sure the services they choose will accept many different forms of payment, allow patients to set up payment plans, and will send payment plan reminders to patients as well.
All payment processing solutions should also be HIPAA compliant and PCI and SSAE-16 certified to ensure that payments are processed safely and securely and in line with government compliance standards. The portals that online payment processing services offer should also be simple to use for patients, otherwise, they will not want to log on to pay their bills.
Online payment processing services encourage patients to pay on time so that you as a dentist or orthodontist can focus on what you do best: caring for patients and helping them have beautiful, healthy smiles.
To learn about how BillingTree's online payment processing services for dentists can help you, contact BillingTree or call us at 877-424-5587.