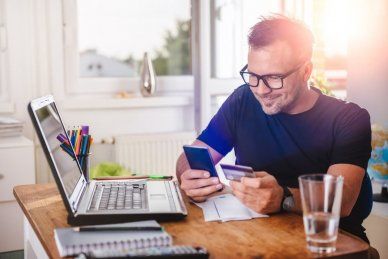 While collecting accounts receivable is hard work, no one can overstate the importance of timely collections. Sooner is much better than later to pursue unpaid debt, as shown in the following graph.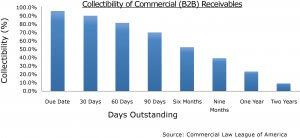 The longer you wait to pursue a delinquent account, the less likely the full amount is to be collected. How long should you pursue debts before turning it over to a professional collection agency? The answer varies depending on your internal staffing levels and your ability to make the required phone calls in a timely manner. As a rule of thumb, most companies turn over their past due accounts receivable to professional collectors after approximately 90 to 120 days.
However, one quick and easy way to encourage timely payments is by using online payment methods.
How portals help
Offering clients an online payment portal allows them to pay their bills at their convenience, and it encourages payments get made on time. A portal is available to accept payments 24 hours a day, 7 days a week, every day of the year, and takes every form of payment, including payment cards like debit and credit cards, eChecks, and ACH payments.
Another benefit of a payment portal is the option to create payment plans through an online negotiation and settlement tool. Clients also have the choice to set up recurring payments, which helps them stay prompt on payments and helps your cash flow improve.
A payment portal benefits your company in other ways, too. You get paid on time, and a portal can store your invoices, customer accounts, and payment history. No longer do you need to keep track of paper for your vital records. You have all customer data in a central place in a uniform structure which you can pull up and access instantly.
The BillingTree difference
BillingTree offers a variety of payment portals, including our proprietary myPayrazr Portal, through our Payrazr Marketplace. Branded payment portals appear just like your company's website or corporate style and integrate with leading accounting and business management solutions.
Offer your customers multiple payment options such as credit card, debit card, or ACH debit from a checking or savings account. Make it easy for them to pay with Payrazr, and enjoy the increase in cash flow.
Contact us today or call 877.4.BILLTREE to request a demo to see payment technology that works.