CBOS- Log In
As a CBOS user, you trust us to keep your data secure. That's why we're adding multi-factor authentication (MFA) as a new step in your login process. It's an extra layer of protection for your account credentials and business data.
Starting June 21st, 2021, we'll send a verification code to your email every time you sign in. See below for the detailed login process…
When you login to CBOS you will be prompted for username and password then click on "Log On".
A Request Verification Screen will appear, click on "Send me the code" (see below)
Check your email for a one-time verification code. The email will come from no-reply@access.tsys.com and will be valid for five minutes. (sample email below)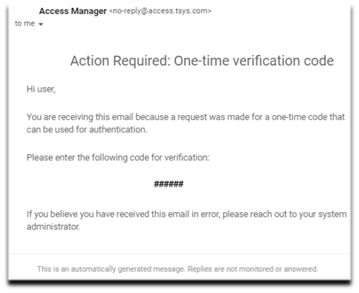 Return to the CBOS page, and Key in the verification code from the email, then select "Verify."

You are done!
Note: Users may be prompted to change the password upon first login after June 21st, 2021.
———————————————————————————————————–
Your Questions Answered
Why do I need MFA?
Multi-factor authentication is an extra layer of protection against cyberthreats like phishing attacks and account takeovers. It verifies your identity with two different "factors" of authentication when you log in. For CBOS we are using a password and a one-time code sent via email.
How often will I be prompted for a new code?
A new verification code is generated for each sign-in attempt, including restoring a session that times out.
What if I didn't receive the verification code?
If you haven't received your verification code, try these methods of troubleshooting:
Check your junk email, emails come from no-reply@access.tsys.com.
Have a code sent to you again—the code, once sent, expires after five minutes.
If you still don't receive the code, contact support@mybillingtree.com.
What if I cannot remember my login, password or I am locked out?
Users will be locked out of their account after three failed login attempts. If you are locked or need your password reset email support@mybillingtree.com.
Can we share logins to CBOS?
All activity is traceable to a unique user. Therefore, each user must have a unique email address. The email address on file for a user should not be shared and should only be accessible by that user only.
What Happened to the Security Question screen?
To expedite the process the security questions have been removed from the login process.